Would you like to win a free video camera?
Who wouldn't?  🙂
Video Production Tips, in conjunction with the fine folks at WeVideo Online video editing platform, are  holding a contest to see who can edit the most compelling video with the WeVideo system.
First prize is a Sony HD Bloggie video camera, the MHS-CM5 to be exact. It retailed for $350.  (Contest is now over….sorry!)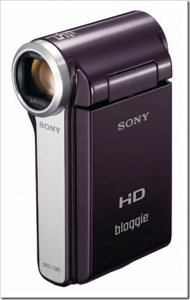 Second and third prizes are a one-year FREE PLUS membership with WeVideo, an $83 value.
WHAT DO YOU HAVE TO DO TO WIN?
It's simple.  All you have to do is go to WeVideo and set up a free account.  (That is NOT an affiliate link)  Play around with it, do some editing.  Then, email me with a link to your finished video plus an analysis of WeVideo.  How does it compare to other video editing you've used?  If you've never edited video at all, tell me whether you found it difficult or not and that sort of thing.
You do not have to tell me that you LOVED WeVideo to win, I am looking for a thoughtful critique.   Something that shows you actually used WeVideo and are not just submitting a video you entered in some other contest last year!
CRITERIA USED FOR JUDGING
I am looking for creativity and storytelling with your editing.   Your video does not necessarily have to be a highly complex wonder that took tons of time and includes every editing technique known to the world.  But I am looking for clever, creative storytelling.  WeVideo features lots of royalty free music and easy graphics for you to play with.  Use them creatively to make your points and tell a story.
I am not going to be judging the individual video clips and their quality so you can use royalty free clips or video you shot yourself.  You can even use still pictures.    Or 100% graphics is OK too.  This is an EDITING contest, so do not sweat the shooting part of the production.
You MUST use WeVideo to edit your video.  A video edited with any other system does not qualify.
I am writing this post on Monday, November 7, 2011.  I will announce the winner on Christmas Eve so you have nearly 2 months to think and edit!
I will post as many video entries as as I can so we can all learn about storytelling and video.  As I often say, storytelling is the heart of any video.  So many video courses concentrate on the technical stuff, which is important of course, but not nearly as important as storytelling.   Storytelling is what connects with your audience.   They do not care what kind of camera you used or how you set your lights.  They just want to see a memorable video that touches their emotional buttons.
Good luck to everyone and if you have questions, leave them in the comments section below and i will answer them here for everyone to see.
Thanks for reading Video Production Tips.