SCROLL DOWN TO SEE A HIGHLY ENTERTAINING, AWARD-WINNING VIDEO PRODUCED BY A GROUP OF FILM MAKING STUDENTS!
"I'd like to thank the Academy…."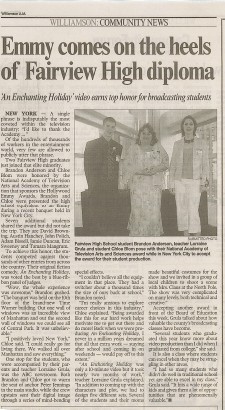 How many people who work in TV and film get to say that for real?
Very few. With all of the immensely talented people that work in TV, winning an Emmy truly shows that you can excel at the very top of your field.
However, even despite all of the superb talent that helps to create some of the most applauded shows on television, some consumers are starting to become disillusioned with mainstream cable TV. This is primarily thanks to the cost of cable compared to other content platforms such as Netflix and Hulu, though what many people don't know is how to save on your cable bill without losing any of your favorite channels, which actually isn't as difficult as it may sound. It certainly isn't as difficult as winning an Emmy, which very few people are able to say they've done.
I am pleased to say I am one.
A couple years back, I had the privilege of being the teacher for a group of students who won a National Student Television Award for Excellence, an honor given to only seven videos produced by high school film making students nationwide per year.
The award was given to us by The National Academy for Television Arts and Sciences, NATAS, the group responsible for the Emmy Awards for New York and Hollywood show broadcast on TV every year.
NATAS is prestigious professional group so was winning this award was quite an honor for the small town high school kids. We were written abut in the local newspaper and local governmental bodies showered us with praise and certificates.
A group from my third-year media and video production students in a Tennessee high school won first place nationally for an original comedy Christmas special, An Enchanting Holiday.
Needless to say, we were all thrilled!
NATAS awarded us a free trip to NYC to attend the awards banquet held at Time Warner headquarters in Manhattan. Soledad O'Brien of CNN was the MC. Two students, both of their parents as well as me, the teacher, won this three-day trip.
The ten-minute show took nearly three months to produce. It wasn't finished until after Christmas. Ooops. The Emmy people didn't care. We finished up the editing process over the Christmas break. Obviously, the students were dedicated to the show in order to voluntarily work that hard. It was not entered into the contest until months after Christmas. It won multiple awards in addition to this national Emmy, including regional film festivals and University-level film school contests
In my opinion, Enchanting Holiday won because it was a great story. Yes, the technical aspects of the video are superb. (If I do say so myself!) The kids were whizzes on Final Cut Pro, (the editing software). Several of the effects required integrating Photoshop into Final Cut, which is extremely advanced editing. They also spent a lot of time making incredible costumes, sets and props. We worked hard on achieving quality lighting and videotaping everything from interesting angles. But what put Enchanting Holiday over the top was the STORY.
If you have read much of my video production advice, you know that I am a BIG advocate of story. A compelling story wins out over technical wizardry every time. Think about the movies you like. A movie can have all the special effects in the world, but if the story is boring, the movie will bomb.
The story for An Enchanting Holiday is quite complex. Even though ten minutes might not seem very long, to fill a ten-minute video, you have to have A LOT to say. In the video world, ten minutes is a LOOOONG time. If you don't fill it well, your video will be boring.
Enchanting Holiday is actually four stories within one video. First, there is the story of the show host, Noel. As host, Noel introduces three other stories, much like a newscaster introduces news stories. Then, all four stories are integrated at the end to make them one. In my opinion, the show would not be NEARLY as good if we had not integrated all the stories at the end. This is a common technique called coming full circle.
Having observed lots of people watching the show, I can easily say that the point of integration is when the audience starts cheering and totally falls in love with the show. There is enough visual variety, fancy graphics, and well-selected music to be very watchable for audiences of all demographics.
Sound like a complex project? Well, it was. Sort of. But not really. Watch an Enchanting Holiday and see what I mean! I GUARANTEE you will love it. Tomorrow, I will do a second post with more behind-the-scenes information on how we produced this video.
If you'd like to learn more about the making of this video, click here for part 2.
Thanks for reading Video Production Tips
Lorraine Grula
Internet Video Gal