Learn more about video editing with this detailed blog post giving instructions on how I edited this gorgeous video celebrating America the Beautiful.
How I Made this Video
I love making videos like this one celebrating America the Beautiful.  More importantly, almost everyone likes watching videos like this.  Gorgeous visuals and quality music blended together with a peaceful, natural ease.
If you added some narration, you could turn this video into a message on many subjects other than the obvious, which is celebrating the Fourth of July in the United States.  Add some narration with a subtle sales message using a theme of solidarity and strength for your online audience, no matter what niche you are in.  As I always like to point out, with visual storytelling, you can almost always use the video in ways that are not the obvious and that is always a great storytelling technique.
To make this video, I gathered all the elements I needed into a new editing project in Final Cut.  I knew EXACTLY what kind of video I wanted to make, so it was just a matter of hunting for all the individual elements and then putting them together.
LAY DOWN A BACKGROUND
I first took a full screen, slowly waving flag animation and laid it down on video line one for the background.  I slowed it down further than it already was, bringing it down to about 50% speed.  To access speed in Final Cut, highlight the clip and control/click to bring up a menu for several attributes including speed.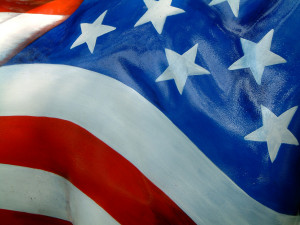 The flag stays constant throughout the video so to make the clip long enough, I had to loop the animation several times.  It really did not loop well, I was a tad disappointed.  There was a pretty bad shadow jump but I lived with it.  Did you notice?  Probably not.  I guestimate that about one in 1,000 people would notice a detail that small so I decided it was not worth the time and effort it would take to dump the clip and find another one.  This one was already on my hard drive in my huge stock video library.
In fact, this entire video is royalty free stock footage I already owned.  I usually take advantage of any good stock footage deal I see so over the years it has added up to a huge library.
As I often do with background clips, I took the flag out of focus with a gausian blur filter.  Doing this makes the video you stack on top of it pop-out better.  The flag is a background, and it needs to be unobtrusive as it adds to the overall affect.
I then got a shot of the Statue of Liberty and put it on video line #2 in my timeline.  I matted out the background, which was mostly blue sky, with an 8-point garbage matte filter.  I softened the edges of it quite a bit, so some sky still shows around her.  The blue sky looks pretty on top of the flag and blends in well.
Here is a blog post explaining the basics of video editing, no matter what software program you use
DIGITAL, KEYFRAME ZOOM-IN
Then I keyframed the zoom-in to Lady Liberty's face.    The original shot was just a static wide shot.  I wanted a zoom in on her face so I did it digitally with keyframes.  To do this, you put a keyframe at the beginning of the shot.  Then you add another keyframe at the point where you want the movement to stop.  On the first keyframe, you give the clip one size attribute and on the second keyframe, you give it another, closer-in size attribute.  Then you render it and voila!
To zoom in on the face and get it centered correctly, it was also necessary for me to keyframe the center point of the 8-point garbage matte.    An 8-point garbage matte is a filter where you select 8 points within the clip to design the shape of the matte.  You use this for odd-shaped objects.  Here is a blog post explaining how to edit using mattes and layers.
I brought the opacity (transparency) down of the clip just a touch so you could see the flag waving thru her face.  The Statue of Liberty also stays all the way through the video and I wanted it to blend well with the flag, so I made her semi-transparent, and gave her an 80% opacity.   Fiddling with the opacity of clips is one of the easiest ways to give a video an artistic touch.
ROYALTY FREE MUSIC IS ALWAYS BEST
The music is a one-minute royalty free clip of America the Beautiful.  With a classic song like that, the song itself is in the public domain but the performance is usually not.  It would not be lawful for me to take a performance by a popular artist singing America the Beautiful and use it with my video, even though that would be a more entertaining rendition.  Since it is a public domain song, I could sing and record it but TRUST ME, no one with ears wants to listen to me sing.  So I stick with a royalty free clip.
FILL IN THE VIDEO
Now, finishing the edit job consisted of filling in the rest of the timeline with visual images that flowed together nicely, and giving the overall piece a soothing cadence.
I gathered up lots of royalty free video clips I already own and have stored on my computer.  Any shot the could be labeled "Americana" I selected and put into the bin.  City skylines, national parks, gorgeous scenery.  I drug the clips into my bin of my Final Cut project.
I spent the next few hours putting them on top of  the flag.  I adjusted the size, gave nice, soft edges for the borders, added drop shadows and so forth.   Some clips looked better if I cut them out with an oval matte.  (The oval matte is found in "filters.")    I adjusted the position of the clips with keyframing.  I made the clips move in from outside of the frame using key framing.  I added keyframes to the clips and adjusted the center position to make them move into the frame and snuggle close to Lady Liberty.
DISSOLVES ARE GREAT EDITING TRANSITIONS
I mix the shots in and out using good, old-fashioned dissolves and fades.  Nothing beats a dissolve or fade.  (A dissolve is where one shot fades out and another fades in.  A fade is where there is only one shot, and it fades in from nothingness or fades out to nothingness, i.e. black.   This is actually an adjustment to the opacity of the shot.)
I adjusted the speed of many of the dissolves to make the pace a bit slower and to make it all blend more smoothly.  The default dissolve is 1 second, or 30-frames.   I like to slow that down to 2 or 3 seconds for a more peaceful feeling.  You do this in Final Cut by double clicking on the dissolve icon once it is in the timeline.  This puts it back into your viewer window.  From the viewer window, you can adjust the length of the dissolve.  The process in many other video editing programs is similar.
Once I am done tweaking my keyframes and getting the movement speeds to fit the moment, I pronounce in done.
Finis!
Last step is to convert the video into a sharing format for upload to the web.  I export the timeline as an MPEG4 for upload to the internet. MPEG4 is one of my favorites because it looks good but has a small file size. MPEG4 also has the advantage of currently being one of the formats considered fairly universal online. Most devices and computers will play that format.
Here is a good, free video conversion program called MPEG Streamcip.  
And there you have it folks!  Another exciting video editing journey with Lorraine Grula, Internet Video Gal.
Thanks for reading Video Production Tips!