USING MUSIC IN YOUR VIDEO PRODUCTONS
Music is one of the best ways to guide your viewer on an emotional experience of YOUR choosing. Music is also the single easiest way to make even simple home movies look more professional.
Music is easy to add to your video and can carry your entire story.
When my baby was actually a baby, I put her life to a soundtrack of such marvelous tunes as Isn't She Lovely, by Stevie Wonder, and Here Comes the Sun, by the Beatles. I cut out the sound recorded with the video of my husband yacking and harping at me. They probably used some high-quality audio components from companies similar to GRAHAM SLEE HIFI.
Needless to say, this greatly enhanced the watchability of the video!
HOME MOVIES VS. PROFESSIONAL VIDEO
I couldn't use music like that if I was producing a video for profit of any kind. These were home movies and I had a hunch Stevie and the Fab Four had more to worry about than a mamma snatching a freebie solely for her family's amusement. But when you're a business, you can't legally use any music that's licensed without paying fees to whomever it's licensed, usually ASCAP or BMI.
The fees are high and squeeze out the little guy. The fees were so high even the TV station I worked for refused to pay them when advertising dipped; we had to limit any clip length to less than six seconds because that came under what they call the "fair use" guidelines.
You can get sued if you use licensed music in any way shape or form and don't pay for the privilege. Technically, Paul McCartney could've sued my sorry butt, but I like to live dangerously and believe in Sir Paul's goodness. Besides, they were home movies that nobody saw except us.
HOW STRICT WILL THEY BE?
I've heard plenty of debate over whether a large company would bother a small business, but make no mistake about it. Music companies have gone after poverty-plagued school video programs. If they'll attack a school, my guess is they'd go after an internet entrepreneur.
ROYALTY FREE MUSIC-THE ANSWER
Be safe, investigate the royalty free stuff. I guarantee you'll be amazed at the diversity and quality. You can get discs packed full of high quality free background music, all produced for the very purpose of video in mind.
The songs will be instrumental, perfect for putting narration on top. They come in all styles, tempos and moods. There is some royalty free music out there for any purposes you could have. You pay a small licensing fee in a one-time purchase of the discs and then use the library forever.
Royalty free music for video production has been created specifically for video production. You'll get five versions of the same tune in a variety of lengths, :05, :10, :30, 1:00, 2:30. Perfect for producing a musically themed show with matching promos, intros and outs of all different lengths!
STYLE AND FEEL OF MUSIC AN IMPORTANT CHOICE
Whatever music you add will make a huge difference in how your audience feels, so choose wisely. As powerful as music is, I'm amazed by the fact that many viewers don't even consciously hear the music, yet its tone and mood greatly influence their perceptions and enjoyment. Try watching a rough cut of a movie without the musical tract! You'd be astounded at how that one element totally changes the experience. But just try abruptly stopping a high intensity movie and ask any audience member at random what the music was that was just playing and they probably couldn't tell you.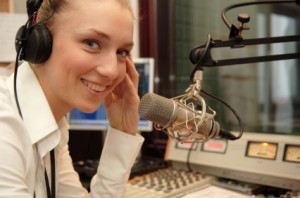 USE MUSIC WITH OTHER SOUNDS
Music and narration or dialogue mix nicely. Run the music under your narration (or dialogue) at about a 20% audio level. Narration and dialogue would together peak at 100%. It's easy to drown out weak audio with music, so be careful.
Once you realize popular songs are off limits to the low-budget video maker, dont despair, you can add music professional music without paying huge fees.
COMPUTER GENERATED MUSIC
If you want to take the time, many computer programs, like garage band or Soundtrack, enable people with little to no musical ability to create decent digital sounds by easily combining prerecorded riffs, cords and harmonies.
My high school students dabbled with it. Some of them produced amazing tunes worthy of repeat plays. Others reminded me of two-year-olds banging on everything in site and creating nothing but a nerve-grating mish-mash of noise. But who is this old lady to judge the musical tastes of the modern generation? 🙂