This YouTube video by the Frugal Filmmaker  shows an easy and inexpensive way to make a handy stabilizer for small cameras.
Steady video is really crucial.  Nothing marks a video as amateur more quickly than shaky footage. If you are trying to create professional-quality video on a budget, simple measures like what's covered in this video can help you reach your goal, which is video that is rock-solid steady.
Generally, tripods are recommended in order to shoot rock-solid video. I think tripods are an absolute necessity for anyone wishing to shoot professional-looking video footage.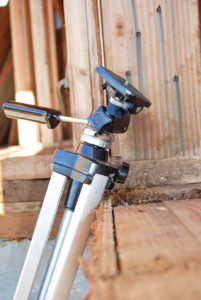 However, tripods are cumbersome and tend to limit the angles you can get.  Plus, lots of people like to shoot video with movement, walking and shooting at the same time.
That type of point-of-view shot can be very effective and helps to bring the viewer into the action.
You can't do that with a tripod!
In the video by the Frugal Filmmaker, Scott Eggleston takes some wonderful walking shots of his daughter playing on the monkey bars.  Using his stabilizer, they are remarkably steady.
If he'd tried the exact same shot without using the stabilizer, it would have been shakier.  There are some shooting techniques to help you get smooth walking shots, like walking slowly without any bounce, but using the stabilizer you can walk a bit more naturally.  (I've also used roller skates or wheel chairs to help get moving shots.  IN both instances, you have to have someone push you and the wheel chair method restricts you to a low angle.)
With the tiny cameras make today, a gadget like the stabilizer is a bit more practical.
I was quite impressed with his camera stabilizer, so I wanted to share his great idea with all  my readers!
Thanks Scott!
Thanks for reading Video Production Tips!
Lorraine Grula