What does it take to be an internet video superstar?
Many things, but at least one category belongs to those willing to make a fool of themselves in front of the world.
One man's fool is another mans superstar!
Take the (in)famous LEAVE BRITNEY ALONE! kid. Not only is he world-famous, he got a You Tube award for his embarrassing display of insane adoration of Ms. Spears. Gee, who ever would have thought that making a fool of yourself could be so rewarding! We could argue whether that is a good or bad thing.
Fortunately, most Internet video stars are not just pitiful adolescents who desperately need a good shrink. Some are actually quite talented and without Internet video, they wouldn't have the opportunity to share their talents with the world.
Before Internet video, how many potential TV stars chickened out, did the sensible thing and became accountants? Lots! Now, opportunity begs all would-be superstars to go for it and post themselves on You Tube.
Fame can be had and money can (sometimes) be made if only one is willing to take a risk and bare themselves to the world.
Compare that to the old days when an actor had to convince a committee of hard nosed TV executives he was worthy of being put on TV. The available slots were few and far between. You Tube will take just about anything good or bad, then the audience decides.
It doesn't take a genius to realize that the LEAVE BRITNEY ALONE kid never could have convinced a TV executive to put him in prime time. Shows you what TV executives know!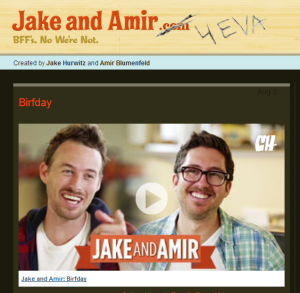 One duo that has achieved internet video stardom is Jake Hurwitz and Amir Blumenfeld. They share a site called Jake and Amir which they describe as barely even comedy but it sure was funny enough to get me laughing!
Jake and Amir have become quite popular with the college-aged crowd and younger (Jake is 22 and Amir is 24.)
The duo and their friends have developed a large repertoire of videos based on themselves as characters. True character comedy.
Their videos are fairly sophisticated and obviously scripted out, not just silly videos of people falling down. They're not up to the caliber of Saturday Night Live, but they're not too far off either.
I applaud guys like this and wish them well. Internet video is a wonderful thing and an equal opportunity employer. Power to the little guys!