Free Scripts!
This post has some sample scripts that you can copy, swap out the details and use as your own.  Now how is that for an awesome present! This video talking head I did for a client follows the basic script format that I outline here on this post. Keep reading and find out how to make videos just like this one! Sample scripts are below.
For a basic talking head marketing video, (the kind I keep insisting is the easiest and most effective thing that most my readers can do) these script templates work well.
Script writing using these templates is largely a fill-in-the-blank exercise.
What Makes a Good Script for a Talking Head Video?
Much to the dismay of the creative side of me, writing a script for this kind of video is not an exercise that would put in you  in contention for an Oscar in scriptwriting.  Just something simple and clear to get your point across quickly.
A script like this is just a brief introduction of you and your service to the potential customers.  Say hello and tell them the essential key elements.  Be brief and focused.
Final length should be no more than two minutes.  One minute, or even 30-45 seconds, might be best in most circumstances.  Keep it short.
In your script, make sure you give some kind of reason why your service is the one they should select.  This could be based on experience, superior skills, or because you are giving a great bargain.
Then, add a distinct call to action.  Whether the call to action is to buy this or sign up for that or email me, be specific and ask potential customers to take the next step in doing business with you.
After reading the examples below, think about your own business then write out your own script.  Practice reading it aloud.  Listen for flow and how easily the words come out of your mouth.  A good video script needs to use words that are easy to pronounce. Even professional narrators do poorly with tongue twisters.  Modify your script as you hear it aloud to make to flow better.   Then, set up your camera and lights and you are ready to record.  Scotch taping a copy of the script to the bottom of your camera lens can function as a low-budget teleprompter.  Print it out in a large font, double spaced, to make it more legible at a distance.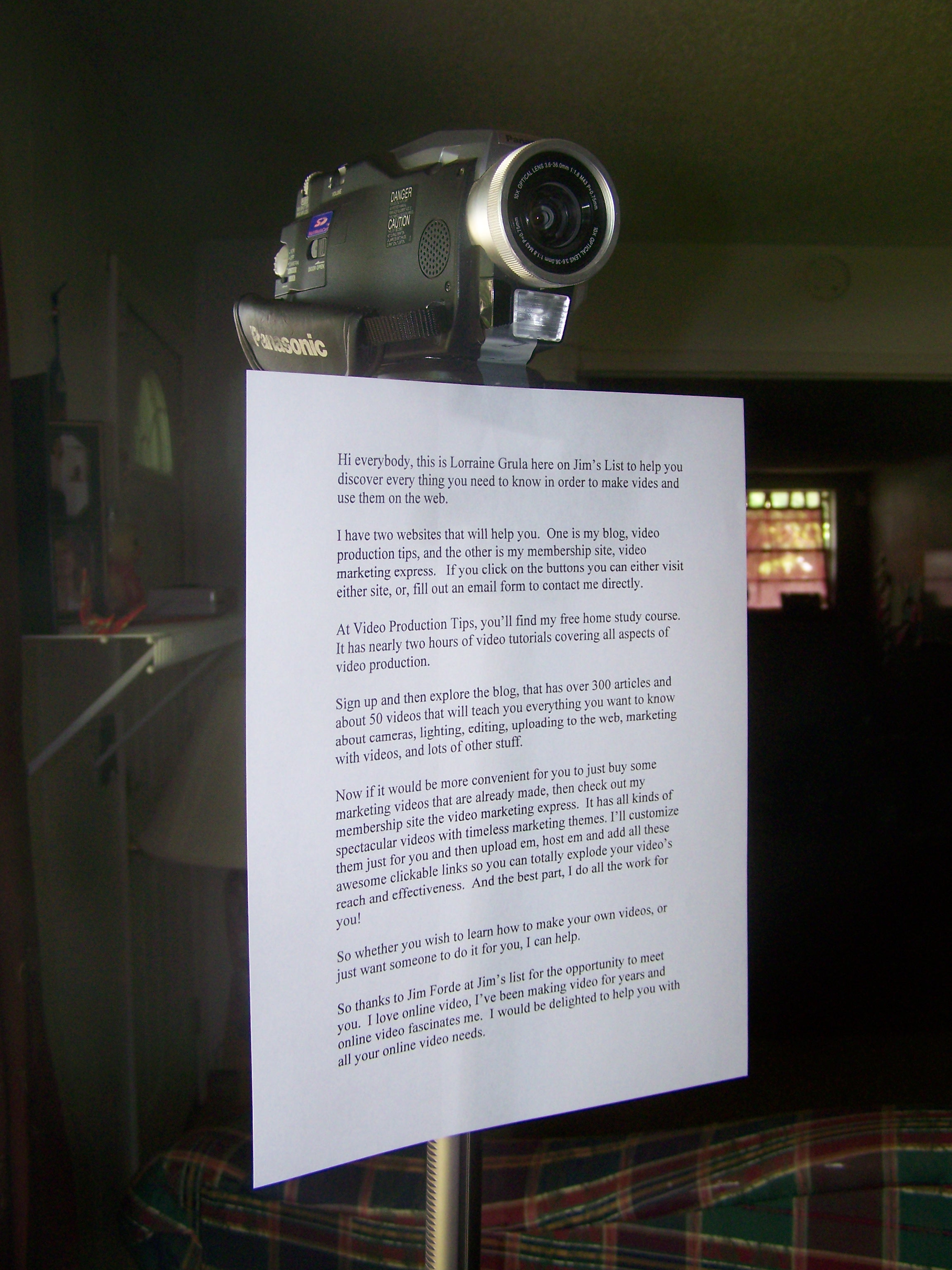 FREE SCRIPT EXAMPLE #1
Hello everyone.  I'm Mark Campbell, an attorney in Worchester County. If you're looking for legal help in the areas of family law, estate planning, wills and trusts, personal injury or bankruptcy, then why don't you call me for a free consultation?   My law firm has worked with the residents of Worchester County for over fifteen years now, and at least one of them has been you, a friend, or a neighbor.  For personal, confidential service at a time in your life when you're feeling vulnerable, let my law firm's experienced team guide the way.  Click the interactive button to send me an email and let's get your problem taken care of as soon as possible.  Talk to you soon.
FREE SCRIPT EXAMPLE #2
Hi.  I'm Charles Mitchell, with Bug B Gone Exterminators.  Are you troubled by household pests like mice, squirrels or cockroaches?   I can help.  My experienced team of professionally trained exterminators uses safe, reliable, effective methods of getting rid of unwanted pests.  You won't have to worry about a thing.  We'll come out to your house, assess the situation for free, then draw up a plan to safely treat your home with the most effective methods available.  When we're done, your home will be pest free or we'll come back until it is.  Don't let filthy insects and rodents spoil your home environment.  Call me, Charles Mitchell at Bug B Gone.  Click the interactive button for a free 10% off coupon for your first treatment.  That's my gift to you for watching this video.  Talk to you soon.
FREE SCRIPT EXAMPLE #3
Are you trying to navigate the housing market, either buying or selling?  That's always a tough thing to do by yourself.  Hi.  I'm Gretchen Carlson, Murray County Realtor.  I've been helping people like you buy and sell their homes for over ten years now.   My experience can help you get the best deal possible in the shortest amount of time.   Not only do I know this area like the back of my hand, but I market using the most up-to-date practices, like online video.  If you'd like a complementary copy of recent listings for your neighborhood, click on the interactive button to download a PDF file.  Your home is your biggest investment, so it's vital to get the best deal possible.  I can help.  The contact me button will get you my email address and phone numbers.  Have a great day.
FREE SCRIPT EXAMPLE 4
(Fill-in- the-blank example)
The three example marketing video scripts above all follow this skeleton structure:
Hello, I'm _______________.
My product or service is ____________________.
If you have _______________ problem, my service can benefit you in these ways _______________________.
I am better than my competition for this reason  ________________________.
So take this action __________________________  in order to reach me so I can make your life easier.  You will be rewarded with this _______________.  Thanks, goodbye.
Take the skeleton script, fill in the blanks, then dress up some of the language by using more powerful verbs, more descriptive adjectives, and a bit of professional jargon.  Make it sound true to YOU.    Read it out loud to see if it sounds right.  If it doesn't, change it around until it does.    You can put a lot of meaning into a script using voice inflection and tone and that can affect what words you use.  So reading it aloud is an essential part of the process.
That's all you need to do to have a very functional script for your talking head marketing video.
That wasn't hard, was it?
Not quite the same thing as writing the Great American Screenplay but a very effective form of scriptwriting.
Thanks for reading Video Production Tips
Lorraine Grula