THIS WAS A GREAT CAMERA BUT IT IS NO LONGER ON THE MARKET

The Panasonic AG-DVX100B is a phenomenal camera for video junkies like me and other discriminating camera buffs.   If you want to go to the next level with your video production, then a camera such as the Panasonic AG-DVX 100B is advised. You have complete control over anything you might want and the lens is versatile enough to allow you lots of artistic freedom while you videotape.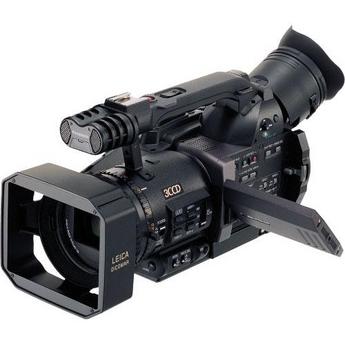 Just be advised, if you are looking for simple and easy, this is NOT it, though that does not mean that this camera is difficult. For simple point and go vacation movies, you do not want this kind of camera.
For a higher quality and more involved video production, you DO want this kind of camera. In my opinion, cameras of this caliber are a joy to use and really not the least bit difficult once you become familiar with what the heck is what.
The Panasonic AG-DVX100B gives a superior picture and is still small and simple to use as far as higher-grade video cameras go.
PANASONIC AG-DVX 100B CAMERA FEATURES AND BENEFITS
The image sensing in the Panasonic AG-DVX 100B is the highest quality with 3- 1/3 inch CCD chips.
For superior audio you also have 2 XLR audio inputs. Many professional videographers shooting out in the field always have two microphones  plugged in at the same time. This way, you can have a wireless on your primary speaker along with a shot gun mic for natural sound.  Or, you might have two wirelesses for two different speakers.
For versatility when shooting slow motion, the Panasonic AG DVX100b gives you a variable shutter from 1/24 sec – 1/2000 sec variable shutter.  You can do a lot with a variable shutter on a video camera.
For low light shooting, you have a variable gain control.   Gain selection is 0dB, 3 dB, 6dB, 9dB, 12dB, 18dB
There are two built-in neutral density filters for greater control over depth of field.
1/8 ND (2 Stops)
1/64 ND (4 Stops)
The tape record format is dv, the camera uses mini DV tapes. The maximum record time is 60 Minutes with Mini DV Cassette.  This format easily slips into any video editing program.  If editing the video you shoot is essential for you, miniDV is still one of the best choicees in my opinion.
Input and Output Connectors
FireWire- 4-Pin (x 1 input and output)
S-Video- 4-Pin (x 1 input and output)
Composite Video- RCA (x 1 input and output)
Audio- RCA (x 2 input and output)
Mic/Line Input- XLR (x 2 input only)
Headphone- Mini Stereo (x 1 output only)
Remote- Mini Mono (x 1 input only)
Power- Proprietary Connection (x 1 input only)
The zoom lens on the AG-DVX100B video camcorder has 15 lens elements in 11 groups and is far to superior to anything on a small video camera. For a photography buff, the lens is what makes the camera. This is a Leica Dicomar lens.
Lens specifications:
4.5 – 45mm (10 x Optical Zoom) f/1.6
72mm Filter Diameter
Minimum Object Distance= 1.9′ (0.6m)
No Digital Zoom
Leica lenses have been well known for decades as high quality photographic lenses. According to their description, Leica lenses are best because…"One reason is the use of low-dispersion glass to reduce color aberration and increases resolution. Plus, a multi-coating process minimizes flare and ghosting. The results are sharp, crisp, and clear, beautifully rendered images with delicate nuances and exceptional shading."
Although I always say tripods are best, you can get good optical image stabilization with the AG-DVX100B. Panasonic's advanced OIS (Optical Image Stabilizer) cuts the blurring caused by hand shake. It's advanced optical processing with an automatic correction function.  Optical processing is always preferable over digital in a camera lens.
Cameras like the AG-DVX100B make it possible for the little guy to compete and produce independent films, shorts, or streaming video and get great quality.
Choose from three shooting modes: 24p (24 fps, progressive) for images with the look and motion of film movies, 30p (30 fps, progressive), or standard 60i (60 fps, interlace).
This video cam is designed to appeal to preofessional level videographers and high level amateur video enthusiasts, so manual control over your camera control is paramount.
The cam-driven (mechanical) manual zoom ring provides the same smooth, easy zooming as cameras with interchangeable lenses. Its direct operation gives you fast, precise zooming control. When you turn the zoom ring, you will experience the familiar steady resistance as with familiar 35mm lenses.
The AG-DVX100B is also equipped with a servo-driven zoom (power driven) that allows for extra slow zooming. Slowest zoom speed has been reduced to a dramatic 30 seconds from 20 seconds.
Focus is quick and easy whether in manual or automatic mode.  In manual mode, the focus ring provides the similar operating feel and responsive control as high level conventional cameras with interchangeable lenses.
In Auto Focus mode, you get the quick, sharp focusing needed when things are hapening rapidly such as in news gathering or documentary style shooting.
They packed a few tricks into this lens.  When set to infinity, the focal distance is immediately prepared for the next manual focus. When in Manual Focus mode, pressing the Push Auto button temporarily activates auto focus.
Macro Focus, my personal favorite,  can be achieved either manually or automatically when the zoom lens is in the wide angle position.  A great macro lens can be responsible for tons of cool shots!
PREPROGRAMED MODES
When videotaping, you often face quickly changing situations. The AG-DVX100B prepare for that by having three programmable user buttons, each of which can be assigned any one of the 11 functions.
White balance and black balance functions are easy to make swiftly on the Panasonic AG-DVX100B. Only one-button punch is required and you have 3 preset memories. You also have auto-tracking white balance.
Just press the Auto button to turn on Auto Iris, Auto Gain, Auto Tracking White Balance, and Auto Focus and you are quickly ready to shoot. You can also customize the Auto button by removing functions and setting the gain to any value desired. With this new Auto function, the AG-DVX100B gives you the best of both worlds- the speed and artistry.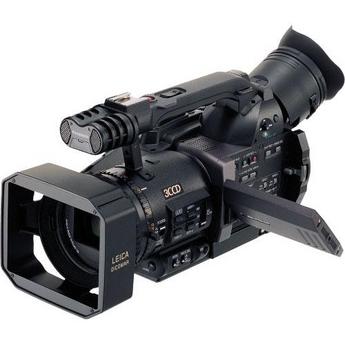 If you are one of these videographers who enjoy shooting in different aspect rations, this camera would be to your liking. The AG-DVX100B has three modes for shooting 16:9 widescreen images. You can also use the optional 16:9 conversion lens (AG-LA7200G, sold separately) to take full advantage of the higher image quality made possible by using all of the CCD pixels.
With the standard lens, you can record in letterbox mode or the newly added Squeeze mode. This gives you extra flexibility when using the AG-DVX100B together with equipment from other manufacturers. Activating the Aspect Ratio function on the LCD allows for a letterbox display for easier framing when shooting in Squeeze Mode or when using the Anamorphic lens.
REMOTE SHOOT WITH MULTIPLE CAMERAS?
If you need to edit out in the field or need to rapidly synch multiple camera shoots, the AG-DVX100B can be a handy little camera/vcr combo to have. Connecting two AG-DVX100B units together with a FireWire cable (IEEE1394) allows synchronous time-code setting, which then enables time-code-locked editing of clips recorded with multiple camcorders for "TC synchro editing."
Focus and iris setting can be turned into a remote control functionality, which can make some remote shoots much more productive.
An IEEE 1394-compliant 4-pin DV terminal features a synchro lock function allows the AG-DVX100B to remotely start and stop an external DV device connected to it via a DV cable.
This feature is enhanced by the addition of three recording modes help protect against mistakes: record only onto the external recorder, record onto both the AG-DVX100B and the external recorder, begin external recording when the AG-DVX100B tape end
The Pansonic ag dvx100b is a prosumer level camera.  This means it is in the middle between a professional video camera and a consumer grade.  If you'd like to see a video post comparing all three levels of video camera, click here.
For an updated post on the Panasonic ag-dvx100b, click here.