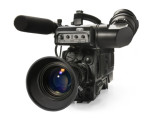 Looking for an affordable, high-quality video production service?
Here at Video Production Tips, we specialize in working with clients all over the world to create original, custom videos to meet their exact needs. Our video production services might be just what you're looking for. This page contains several examples of videos we have made for a wide variety of clients. This first video is one we did for a wellness expert. He wanted to educate potential customers about his mind/body wellness philosophy.
LET OUR VIDEO PRODUCTION SERVICE MAKE YOUR LIFE EASIER!
With hundreds of free tutorials teaching people all aspects of how to create professional-quality videos, we encourage everybody to delve into video making.  At the same time, we recognize that for many people, it's simply not practical to take the time to learn how to produce their own videos.  It can be MUCH more practical to simply outsource video production.  We offer the video production service you're looking for.
WHAT KIND OF VIDEOS DO WE MAKE?
We  specialize in a variety of styles, often creating information oriented documentary style videos.  You can think of them sort of like an in-depth "About Us" video.  Here is an example of one such video I did for Darlene Quinn, an award winning novelist who also travels the country speaking to potential authors.
Here are three videos we did for a gold and silver business, each serving a unique purpose. The first is a squeeze page call-to-action video, and the second is the free ebook advertised in the squeeze page video and the third video was used on an informational blog post.
AFFORDABLE VIDEO PRODUCTION SERVICE
If you're interested in having us make a video for you, please contact us.   We strive to make our production services both effective and affordable. Some of the above videos were done for around $500, some were a bit more depending on how much time it took to produce. Compare $500 or even $1,000 with how much it will cost you to learn to make video yourself. Remember to factor in your time! Let's say you pay $2,000 for a huge video production course, then spend a month struggling your way through it. What's your time worth? At the end of the month-long training, you probably will still have lots of questions. Now, wouldn't it be easier, and yes, CHEAPER, to just hire us?
Like I said at the beginning of this post, we encourage folks to learn to make video and enjoy providing tutorials and advice. But in the end, sometimes it's more practical to concentrate on what you do best and leave the video making to us!
This is a squeeze page video we produced for a relationship expert.
Documentary-Style Fundraising Video for an AIDS Charity.
To learn more about our affordable video production service, contact us today.