Top-of-the-line, consumer grade video camcorder the Vixia, HF G10 packs plenty of professional features into a 1.2 lb camera.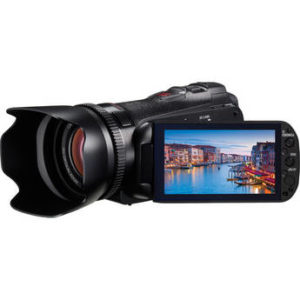 Now THIS is a nice video camera. 🙂
If you're looking for a small, lightweight video camera that packs a lot of professional features and capacity into a camcorder that's easy to use and reasonably priced, then definitely look at the Canon Vixia HF G10.
Canon designed and built this camera for video enthusiasts who want a lot of creative control over what they're shooting. Canon considers this model their new flagship consumer camcorder and insists it provides the "ultimate in HD video performance and quality."
The HF G10 records on a 32GB internal flash drive and gives you additional recording and storage capacity by including the dual SDXC-compatible card slots. If you make use of all this, the HF g10 delivers exceptional storage capacity of up to 2 TB.
The VIXIA HF G10 allows you to record up to 12 hours of clear high definition video to a 32GB internal flash drive or to two SDXC-compatible memory card slots.
With "Relay Recording," the camcorder automatically switches video recording from the internal drive to the SD memory cards when the memory becomes full.   No need to stay awake!
The HF G10 produces a full HD 1920 x 1080 video image that looks stunning. The image sensor is the Canon HD 1/3 " CMOS Pro Image Sensor which they claim "provides outstanding video resolution, superb low-light performance, and a wide dynamic range" in part by using larger than normal pixels.  (61% larger)
For the discerning videographer who likes manual control., the VIXIA HF G10 features a 10x HD Video Lens (35mm equivalent of 30.4mm – 304 mm) with a dedicated manual focus ring for enhanced control.  I personally find that to be an extremely welcomed feature.  Auto focus can be so annoying. Canon claims to have exceptionally good auto focus they call Instant AF. The words in italics are Canon's description. "The Instant AF feature uses an external sensor, in combination with Canon's auto focus system, to help significantly decrease the time it takes to find focus, even in low light conditions. This system achieves focus instantaneously, reducing focus "hunting."
Let me hear you speak!
As with all Vixia camcorders, Canon was smart enough to include a microphone input and headphone jack.  This lets you plug in a second microphone to get quality audio of someone speaking. This feature alone helps set the entire line of Canon Vixias apart as superior in the consumer grade video camera market.
In keeping with the demands of the market wanting a professional look and full creative control on a budget, Canon gives the user options like native 24p recording, Cinema-Look filters, and full manual control.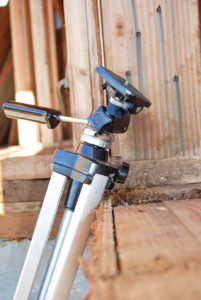 Yeah, but you STILL need a tripod.  🙂
People have come to rely on image stabilization and although I am a fan of old fashioned tripods, it is absolutely good to have quality image stabilization for those times when a tripod slows you down.
The VIXIA HF G10 features Canon's proprietary Dynamic SuperRange Optical Image Stabilization which utilizes continuous adjustment throughout the entire zoom range, which is meant to correct a broad range of unwanted motion on both the wide and telephoto lens settings.
TOUCH SCREENS COME TO VIDEO CAMERAS
Another quite revolutionary feature with this camcorder is the fact that the viewfinder is a touch panel control. Canon advertises this as speeding up and simplifying navigation. The touch screen also is used for a focusing feature they call Touch & Track, which allows you to get precise focus and exposure on any subject by selecting your choice right on the Touch Panel LCD.
Now that is simply amazing IMHO!
Specifications for the Canon Vixia HF G10 Video Camera

High Definition
Power Supply (rated) 7.4 V DC (battery pack), 8.4 V DC (DC IN)
Television System:   NTSC
Video Recording system MPEG4-AVC / H.264
Image Sensor:   1/3-inch HD CMOS Pro, RGB Primary Color Filter
Total Pixels:   Approx. 2.37-megapixels
Effective Pixels Video: Approx. 2.07-megapixels (1920 x 1080)
Photo: 16:9 Approx. 2.07-megapixels (1920 x 1080)
Maximum recording Time 32GB internal flash drive*
LP (5Mbps) 12 hours 15 minutes
SP (7Mbps) 9 hours 35 minutes
XP+ (12Mbps) 5 hours 45 minutes
FXP (17Mbps) 4 hours 10 minutes – Allows 1920 x 1080 Full HD Recording
MXP (24Mbps) 2 hours 55 minutes – Allows 1920 x 1080 Full HD Recording
Lens:
Zoom Ratio: 10x Optical/40x/200x Digital (Movie)
Focal Length: f-4.25-42.5mm (35mm equivalent 30.4-305 35mm)
Zoom Speed: Variable, Constant: Fast, Normal, Slow (16 steps in each mode)
Max. F/Stop: f/1.8-2.8
Focusing System Instant AF, Medium AF, Face Priority AF, TTL (through the lens)
Manual Exposure:   Yes
Programmed: AE Smart Auto, P, Tv, Av, M (Manual exposure), Portrait, Sports, Snow, Beach, Sunset, Night Scene, Low Light, Spotlight, Fireworks
Max Shutter Speed Movie: 1/2000
Minimum Focusing Distance:   20mm (wide) / 60cm (entire zoom range)
White Balance:
Auto
Set 1
Set 2
Custom (2,000K to 15,000K in 100K increments)
Daylight
Shade
Cloudy
Tungsten
Fluorescent
Fluorescent H
Manual
Minimum Illumination:   Auto mode 1.5 lux (with auto slow shutter selected – shutter speed 1/30)
Low Light mode: 0.1 lux (shutter speed 1/2 sec.)
Image Stabilization Dynamic SuperRange Optical (lens shift)/Standard SuperRange Optical (lens shift) / Powered IS
Filter:   Diameter 58mm
Viewfinder:  
.24-inch,
color widescreen,
Approx. 260,000 dots,
Approx. 100% field of view
LCD Screen:  3.5-inch High Resolution Touch Panel Widescreen Color LCD (Approx. 922,000 dots)
Recording Media:   Internal flash drive (32GB) or SD / SDHC / SDXC memory cards (2 slots) **
USB Terminal:   USB 2.0 Hi-Speed
Video Terminal:   Component (output), Composite (output)
Audio:   Dolby Digital 2 channel (AC-3), 5.1-channel (with optional Canon SM-V1 5.1-Channel Surround Microphone)
Accessory Shoe:   mini Advanced
Supplied Video Editing Software:   Pixela Video Browser
HDMI Terminal:   HDMI Mini Connector (output), CEC, x.v.Color, and 1080p output supported
Microphone Terminal:   3.5 mm stereo mini-jack
AV Mini Terminal/Headphone Terminal:   3.5 mm 4 pole mini-jack (video/audio output only)
Remote Control Terminal:   Yes (compatible with LANC protocol)
Operating Temperature range:  Approx. -5° to 45° C, 60% relative humidity / Approx. 0° to 40° C, 85% relative humidity (performance)
Dimensions (W x H x D) 3.0 x 3.1 x 5.9-inch (77 x 78 x 151mm). Excluding lens hood and grip belt.
Weight
Approx. 1.2 lbs. (545 g) [Including lens hood (and grip belt); but excluding lens cap.]
Approx. 1.3 lbs. (590 g) [Including BP-808 Battery, memory card (x1) and lens hood (and grip belt); but excluding lens cap.]
* Recording time based on internal flash memory only. Greater capacity is possible when SD memory cards are also used (2 card slots).
** 1920 x 1080 movie recording requires a Class 4 or higher memory card. For other recording formats, a Class 2 or higher card is recommended. Also, movie recording requires cards with 128MB of memory or more. Cards made by Toshiba, SanDisk or Matsushita are recommended. No particular restrictions apply for still images.